Summer Office Hours 
Monday through Friday 7:30AM to 3:30PM
These hours are for all schools and district departments for public access. This helps the St. Johns County School District's energy savings efforts.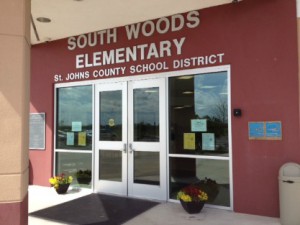 South Woods Mission Statement 
Our school will create a secure community that will instill in all students a desire for academic excellence, fostering the development of caring, productive citizens.
---
Online registration is now open! Please see the link above to start the registration process! 
If you have any questions, please call our Data Operator Mrs. Brown at 904-547-8618. 
School Hours
The school day start time is 8:25 a.m. and dismissal time is 2:45 p.m. Students can be dropped off beginning at 8:00 a.m. at the parent drop-off loop. Wednesday Early Release dismissal time is 1:45 p.m. No transportation changes are permitted after 2:15 p.m. (1:15 p.m. on Wednesdays).
Please remember that presenting an I.D. is required when picking up a student from the front office or when signing in as a volunteer.
In order to visit or volunteer the school you MUST be registered in the School Access system.
---
Bullying Partnership
St. Johns County School District believes that all students and employees be afforded a setting that is safe, secure, and free from bullying and harassment of any kind. In compliance with Florida Statute 1006.147 and School Board Rule 3.21, the school district has adopted a comprehensive policy prohibiting bullying and harassment.
Character Counts at South Woods!

Online Payments