Welcome!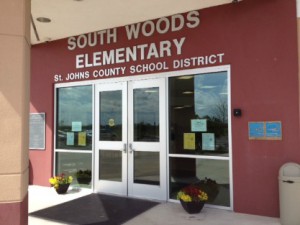 South Woods Mission Statement 
Our school will create a secure community that will instill in all students a desire for academic excellence, fostering the development of caring, productive citizens.
---
School Hours
The school day start time is 8:25 a.m. and dismissal time is 2:45 p.m. Students can be dropped off beginning at 8:00 a.m. at the parent drop-off loop. Wednesday Early Release dismissal time is 1:45 p.m. No transportation changes are permitted after 2:15 p.m. (1:15 p.m. on Wednesdays).
Please remember that presenting an I.D. is required when picking up a student from the front office or when signing in as a volunteer.
In order to visit or volunteer the school you MUST be registered in the School Access system.
---
Bullying Partnership
St. Johns County School District believes that all students and employees be afforded a setting that is safe, secure, and free from bullying and harassment of any kind. In compliance with Florida Statute 1006.147 and School Board Rule 3.21, the school district has adopted a comprehensive policy prohibiting bullying and harassment.
Character Counts at South Woods!

Online Payments