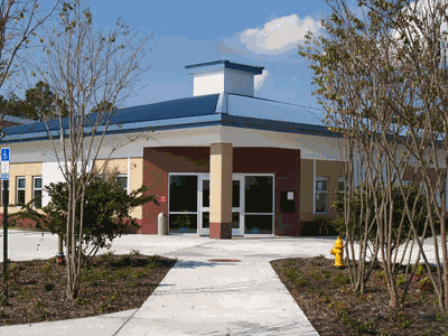 South Woods Elementary Mission Statement:
Our school will create a secure community that will instill in all students a desire for academic excellence, fostering the development of caring, productive citizens.
---
Early Kindergarten Registration
South Woods Elementary will hold early registration for children entering kindergarten and VPK/Pre-K for the 2018-2019 school year.  For questions about registration at South Woods Elementary School, contact Mrs. Brown at (904)547-8618.
Tuesday, March 13 9 a.m. – 1 p.m.
Tuesday, March 20 9 a.m. – 1 p.m.
Wednesday, April 4 1 p.m. – 5 p.m.
Wednesday, April 11 1 p.m. – 5 p.m.
To be eligible for public kindergarten in the SJCSD, children must be 5 years old on or before September 1 and must reside in St. Johns County.
Parents must register children at the school where they are zoned for the 2018-2019 school year. To find your school, enter your street address on the Attendance Zone Locator at www.stjohns.k12.fl.us/zoning/. Students zoned for the new K – 8 School "KK" will need to register at Allen D. Nease High School, located at 10550 Ray Rd., Ponte Vedra and students zoned for the new K- 8 School "LL" will need to register at the Aberdeen Community Center, located at 110 Flower of Scotland Ave., St. Johns.
For additional information on registration and zoning, visit www.stjohns.k12.fl.us/student/enrollment/ or contact the Student Services Department at 547-7598.
Requirements for registration:
Birth certificate/Guardianship Documents
Documentation of a health examination performed on or after August 11, 2017
Proof of completed required immunizations on Form DH680
Proof of residence per the Residency and Guardianship Policy located at stjohns.k12.fl.us/student/residency/
---
5th Grade Open House at Gamble Rogers Middle School
Hello, Soon-to-be Stingray Families!  We would like to invite you to our annual 5th Grade Open House.  On May 3rd we will begin at 6:00 pm in the auditorium with a brief overview of Gamble Rogers Middle School.  Then families will rotate through four stations throughout the school.  Families will learn about important middle school stuff, such as:  What is WEB? What elective courses will I take next year? Who is my guidance counselor? What is Stingray Success?  What supplies will I need next year?    We are excited about the upcoming year and hope that this event will help all of our new Stingrays feel excited too!
---
Summer Meal Program
FOOD THAT'S IN WHEN SCHOOL IS OUT!
Any Student who is 18 years of age or younger may receive free, nutritious meals at Southwoods Elementary School (June 4th-July 13th).  W.E. HARRIS COMMUNITY CULTURAL ARTS CENTER from June 4th-July 27th or THE TEEN CENTER in Hastings will also be serving meals during the summer months beginning June 4th-July 20th. Please dial 211 to inquire about the serving times or any additional locations serving meals.
---
The school day start time is 8:30 a.m. and dismissal time is 2:50 p.m. Students can be dropped off beginning at 8:05 a.m. at the parent drop-off loop. Wednesday Early Release dismissal time is 1:50 p.m. No transportation changes are permitted after 2:20 p.m. (1:15 p.m. on Wednesdays). Please remember that presenting an I.D. is required when picking up a student from the front office or when signing in as a volunteer.
---
Bullying Partnership
St. Johns County School District believes that all students and employees be afforded a setting that is safe, secure, and free from bullying and harassment of any kind. In compliance with Florida Statute 1006.147 and School Board Rule 3.21, the school district has adopted a comprehensive policy prohibiting bullying and harassment. Click here for a printable SJC Bullying Report.
---
Character Counts at South Woods!