South Woods Elementary School will create a positive learning environment that will instill good character and the desire for academic excellence, fostering the development of caring, productive, and digital citizens in the global world.
Transportation Information
Let your child's teacher know how your child will be going home each day beginning the first day of school. 
Bus
We encourage you to allow your child to ride the bus beginning the first day of school.  Bus stop locations, drop off and pick up times are located in HAC (Home Access Center).  You can access HAC on the St. Johns County School District Website or by going to www.stjohns.k12.lf.us/hac/.  If you have not used HAC before, select the link titled Online Registration Instructions.  For questions about HAC please contact the school at (904) 547-8610.  For questions about bus stop locations and time, contact the St. Johns County Schools Transportation Department at (904) 547-7810.
Parent Pick Up
If you will be picking up your child from school, you will need to place the school approved Parent Pick Up sign in your car window.  Look for an email from the school with a PPU sign template for you to use.  Please be prepared to show your ID when requested by our staff working the Parent Pick Up Loop. 
Monday, Tuesday, Thursday, Friday
8:25 AM  –  2:45 PM
Wednesday (Early Release)
8:25 AM – 1:45 PM
Main Office Telephone
904-547-8610
The school day start time is 8:25 a.m. and dismissal time is 2:45 p.m. Students can be dropped off beginning at 8:00 a.m. at the parent drop-off loop. Wednesday Early Release dismissal time is 1:45 p.m. No transportation changes are permitted after 2:15 p.m. (1:15 p.m. on Wednesdays).
Please remember that presenting an I.D. is required when picking up a student from the front office or when signing in as a volunteer.
St. Johns County School District believes that all students and employees be afforded a setting that is safe, secure, and free from bullying and harassment of any kind. In compliance with Florida Statute 1006.147 and School Board Rule 3.21, the school district has adopted a comprehensive policy prohibiting bullying and harassment.
St. Johns County School District Head Start provides a free pre-school program and comprehensive health and social services to eligible three- and four-year-old children and their families living in St. Johns County. Head Start is for income eligible families, proof of income is required.
This is just a reminder that anyone (parent, guardian, friend, neighbor, aunt, uncle) must have school access to attend an event at South Woods Elementary School, have lunch with a student and/or attend an awards assembly. If you have not already done so, please complete the School Access Form. The process for approval may take up to 4 weeks, so please fill out the application sooner than later for any guests that would like to have school access. Once the application is approved, school access will be valid for three years.
FortifyFL is a website and app developed at the direction of the Florida Legislature. Any student, educator, parent or member of the public can report school safety concerns directly to law enforcement and school administrators anonymously and easily through the FortifyFL app or getfortifyfl.com.
Character Counts at South Woods!
2021-2022 Instructional Materials Adoption for Mathematics
The St. Johns County School District curriculum department formally announces the review process for the 2021-2022 Instructional Materials Adoption for Mathematics. The core resources that have been submitted for evaluation have come from the state adoption bid list and other submitted resources from publishers when available. Additional resources for advanced programs may be reviewed from materials listed as appropriate for the program indicated.
Please visit the instructional materials website to view the resources that are being considered for adoption. If you would like access to any available printed materials or require assistance reviewing the online resources, please call the Instructional Resources and Media Services office at 904.547.3947. Materials are available for review from 8:30 a.m. - 4:30 p.m.
We encourage parent and community participation in our adoption process. If you would like to serve on a school committee and formally review the resources as a part of the school review team, please contact any school or our office at 904.547.3947.
To learn more about the policies and procedures for textbook adoption, visit the Florida Department of Education Instructional Materials Website.
B.E.S.T. Standards Presentation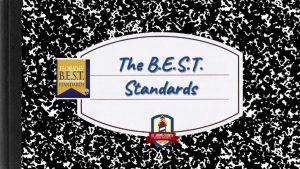 The purpose of the video is to provide parents and community members with information about the new B.E.S.T. Standards for English Language Arts and math. The video also explains the timeline for the implementation of the new standards.
View the B.E.S.T. Standards Presentation